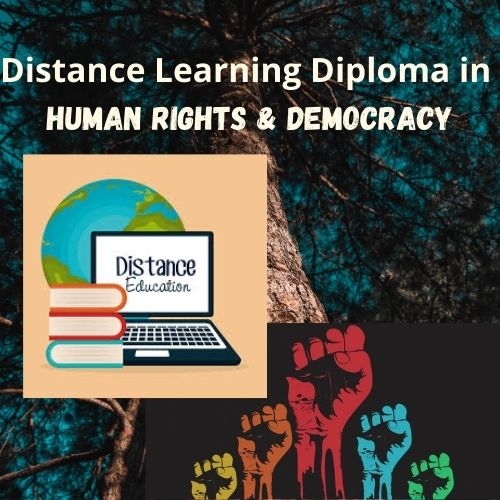 This is a Distance Learning Diploma Course offered by the Centre for the Study of Human Rights (CSHR). It is in equivalence with the requirements of Sri Lanka Qualifications Framework (SLQF) Level 3, to be conducted by the CSHR as a distance learning course. The course will be offered by following student-centered teaching and learning methods and K-SAM model. The course will provide theoretical and practical knowledge through face to face lectures, free e- book, lecture handouts, independent learning activities and minor research projects. The course aims to develop an understanding of the principles and institutions of international human rights law and democracy, including their origins, applications, developments and limits.

A) THE OBJECTIVES OF THIS COURSE ARE:
To ensure the highest intellectual capacity development, in human rights and democracy to people in Sri Lanka
To make available a formal Distance Course on Human Rights and Democracy to those who have less opportunities to follow a course from a reputed university in the country.
To sensitize people on the importance of rights, responsibilities and democracy in the context of Sri Lanka.
To impart the importance of 'creating a culture of human rights' in the country coupled with democracy
B) AT THE END OF THIS COURSE, STUDENTS WILL BE ABLE:
Understand the principles in human rights and democracy taught in the course.
Explain the rights and duties of rulers and the citizens of the country, system of governance and the relationship between the domestic and international human rights framework;
Apply the basic principles of human rights and democracy to issues and problems in the main areas of the course;
Identify the relevance of Human Rights and Democracy to the citizens, to the workplace and to the country.

a. General Certificate of Education (Advanced level) or an equivalent qualification,
Or
b. A foundation course equivalent to SLQF level 2,
Or
c. Completion of NVQ level 4 and five years' work experience in a related field or accredited prior learning followed by a corresponding programme of minimum 30 credits as determined by the academic authority of the HEI
| | |
| --- | --- |
| DURATION OF THE PROGRAMME | 1 YEAR |
| SLQF LEVEL | LEVEL 3 |
| CREDITS | 30 CREDITS |
| MEDIUM OF INSTRUCTIONS | SINHALA AND TAMIL |
| COURSE FEE | RS. 55,000/= |
| APPLICATION FEE | RS. 500/= |
Application can be download from the Downloads section of this page.
Completed Applications and certificates should be submitted along with the paying voucher of the non-refundable application fee.
Payment of the application fee can be done through the following options.
Applications along with required documents stated in the application can be submitted by email to this address:      info@cshr.cmb.ac.lk
Course commences on the enrolment of a sufficient number of candidates.