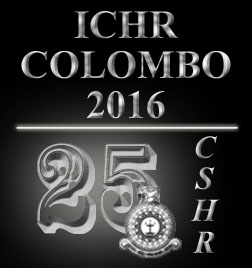 The Centre for the Study of Human Rights (CSHR), University of Colombo, Sri Lanka, is organising an international conference to celebrate its 25th Anniversary in the field of human rights. The CSHR acknowledges the value of continued dialogue on human rights, with prominence being accorded to citizenship and democracy.
As a human rights organisation, which was established in 1991, within the Faculty of Law of the University of Colombo, the CSHR has been engaged in education, research, capacity building and providing knowledge services in relation to human rights to diverse sectors such as legal and medical professionals, security forces and law enforcement authorities, school and university communities, media, rural and plantation communities and civil society islandwide.
Being a university based organisation, the CSHR due to its unique position, is able to link the theoretical aspect with the practical application of human rights at different levels across the country. This exceptional status, coupled with international collaboration, has enabled CSHR to carry out a variety of human rights education programmes from certificate level to master's level in contributing to the promotion of human rights.
Through this conference, the CSHR aims to further enhance human rights protection and promotion towards entrenching human rights values at the global level; to provide an opportunity for academics, civil society, students and others to participate in the conference as either presenters or participants to demonstrate and share their experiences relating to safeguarding human rights; promoting goodwill and building networks for future partnerships in creating a human rights culture for all.