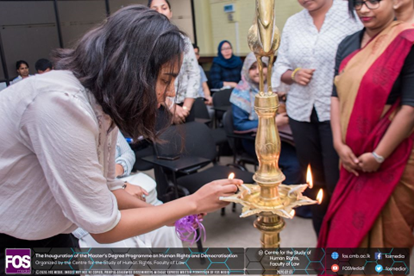 DOWNLOAD THE DOCUMENT AND SEND THE DULY FILLED APPLICATION ALONG WITH CERTIFIED COPY OF CERTIFICATES BY REGISTERED POST AND EMAIL (mhrd@cshr.cmb.ac.lk)
The Programme
The Master of Human Rights and Democratisation (Local) Programme is designed for academics, professionals and highly motivated graduates. The degree offers students a unique opportunity to engage first-hand with regional and international human rights as well as democratisation issues, and to interact with internationally acclaimed academics, practitioners and experts. It also provides the learning opportunity to interact with a group of international students from the Mahidol University, Thailand.
Programme Objectives
The course aims to provide the candidates in their early and mid-career professions, an opportunity to enhance their basic knowledge on more contextualised and practical understanding on human rights and democracy. The design of the curriculum, teaching and learning methodology will enhance necessary skills of the candidates related to monitoring and preparing practical/advocacy related tools for human rights and democracy. In addition, the eventual objective of this course of study is positive influence of attitudes and perception of students in reater competence at working with human rights and democratisation defenders.
At the end of this course, students will be able to:
Have an excellent knowledge of theory and practice of the promotion and protection of human rights and democratization.

Can undertake independent scholarly research on current issues in human rights and democratisation in the Sri Lanka and the Asia Pacific.

Have the capacity to put their academic understanding and practical experience to use in real situations.
Target group
The primary target group of this course are the officers of the highly motivated undergraduates, mid-career professionals in the fields of human rights and democratisation. Other interested candidates can be from the military (Army, Navy & Air Force), executive officers of government, private & non-governmental organizations and members of civil society are eligible for nomination by the relevant authorities or can apply independently subject to their qualification and experience in the relevant fields. Such nominations will be considered as an invitation to treat, and the CSHR will conduct an interview to select potential candidates subjected to the governing rules and regulations of the University of Colombo.
Programme Structure
This course is designed based on the credit value system of Sri Lanka Qualification Framework Level 9 (SLQF 9) and it allows a candidate to earn 30 credits within the period of one year (01) by successfully completing six course modules along with a supervised researched component or an internship placement of 180 hours with a research.
Course Modules
First Semester
Human Rights Norms and Mechanisms (Part I)

Human Rights and Democratisation Research

Dynamics of Human Rights Violations

Democracy Theory and Practice
Second semester (with international students following the Asia Pacific Regional MHRD Programme)
Human Rights Norms and Mechanisms (Part II)

Critical and Emerging Issues in the Asia Pacific Region

Dissertation or Internship Placement
Eligibility Criteria
(i) A Bachelor's degree from any recognised university or an equivalent qualification recognised by the University of Colombo;
(a) including 30 credits in the relevant subject area
Or
(b) with prior learning/work experience equivalent to 30 credits in the relevant subject area
Or
(ii) An educational/professional qualification in the relevant subject area equivalent to 1(a) or 1(b) with prior learning/work experience which is  acceptable to the Faculty Board and the Senate of the University of Colombo
Or
(iii) Completion of NVQ level 7, as determined by the Senate of the University of Colombo
And
(iv) A good knowledge of English language and satisfactory performance at a selection test and/or selection interview.
Application Process
Applications will be processed after providing the paying voucher of Rs. 2000/- to any branch of the People's Bank, in favour of "University of Colombo" account No: 335027200008 (Thimbirigasyaya Branch)
Completed application along with certified copies of the certificates and the payment receipt to be scanned and emailed to mhrd@cshr.cmb.ac.lk and should be sent by registered post on or before 30th June 2023.
The Director
Centre for the Study of Human Rights
Faculty of Law, University of Colombo
94 Cumarathunga Munidasa Mawatha, Colombo 03
Tel : 011 2500879/2503017
Email:  mhrd@cshr.cmb.ac.lk
Payment of the application fee can be done through the following options.
For more information contact us on:
Centre for the Study of Human Rights, Faculty of Law, University of Colombo,
94 Cumarathunga Munidasa Mawatha, Colombo 03
Tel: 011 2500879/2503017
Email:  mhrd@cshr.cmb.ac.lk|info@cshr.cmb.ac.lk