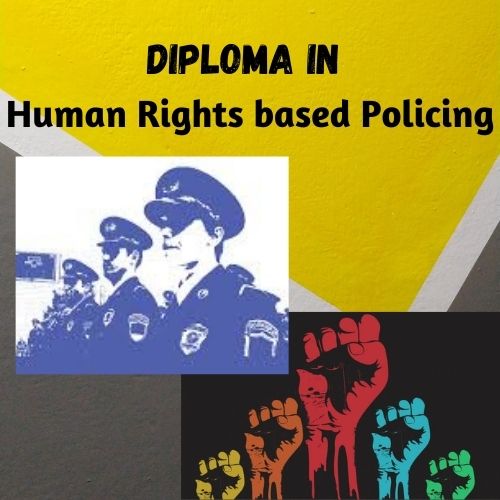 Diploma in Human Rights based Policing is a tailor-made programme to enhance human rights related knowledge of Police personnel in Sri Lanka. This programme was designed in 2017 based on the findings of Enhancing Human Rights Protections in the Security in the Asian Pacific Project (EHRP). As such, this programme was launched along with the Department of Police in bridging the gap between human rights theory and practice in relation to policing.

The course aims to enhance knowledge, skills and attitudes of the Police personnel with respect of implementation of human rights.
a) THE OBJECTIVES OF THIS COURSE ARE:
To enhance knowledge on human rights, its applicability in Sri Lanka, especially within the institution of the Police.
To develop skills to identify the situational factors which lead to improper use of force during Police during Police duties ad knowledge on conducting a situational assessment from a human rights perspective
To empower Police personnel with tools which they use when handling situational factors from a human rights perspective
To develop the ability of Police personnel to develop and implement their own initiative in order to change the identified situational factors within their workplaces, which leads to human rights violations and improper use of force
To enhance professionalism of Police personnel by inculcating human rights values and the concept of dignity
To develop insight through a human rights perspective into the complex contemporary issues the Police officer has to deal with, within the present Sri Lankan context.
B) AT THE END OF THIS COURSE, STUDENTS WILL BE ABLE:
Ascertain the meaning of human rights, human dignity and conceptual foundation of protecting human rights
Differentiate fundamental rights from human rights
Define the fundamental rights and their limitations
Apply human rights and fundamental rights to police duties
Identify current problems in relation to human rights based policing and appraise ways of overcoming problems
Adapt professionalism in policing through enhanced skills such as effective communication, stress management, mediation, respectability, dignity and leadership.
Analyse gender-based violence and child abuse issues and how they impact on rights of women and children
Analyse rights of prisoners and drug addicts

No person shall be eligible for registration for the programme of study leading to the Diploma in Human Rights based Policing unless she/he
(a) Is in the Sub Inspector of Police or above ranks in the Police Department
Or
(b) Is a Police Sergeant with minimum 8 years of experience.
| | |
| --- | --- |
| DURATION OF THE PROGRAMME | 1 YEAR |
| SLQF LEVEL | LEVEL 3 |
| CREDITS | 30 CREDITS |
| MEDIUM OF INSTRUCTIONS | SINHALA AND TAMIL |
| COURSE FEE | RS. 70,000/= |
| APPLICATION FEE | RS. 500/= |
Completed Applications and certificates should be submitted along with the paying voucher of the non-refundable application fee. (Individual applicants who are not funded by an institution should pay an application fee)
Payment of the application fee can be done through the following options.
Applications along with required documents stated in the application can be submitted by email to this address:      info@cshr.cmb.ac.lk
Course commences on the enrolment of a sufficient number of candidates.
For more information contact:
Centre for the Study of Human Rights,
Faculty of Law, University of Colombo,
94 Cumarathunga Munidasa Mawatha, Colombo 03
Tel : 011 2500879/2503017
Email: cshr.humanrightscentre@gmail.com | hrbp@cshr.cmb.ac.lk